HAM-LET NPT Ball Valves
H-710 FAMILY
HAM-LET
Hamlet
 
2 piece ball valves with:
• Blow-out Proof Stem
• Stainless Steel Constructions
• Locking Handle in On and Off positions
• MAWP 2000 psi (135 Bar)
• MAWT 400°F (204ºC)
• Flow coefficient (Cv) 1.25 to 17.35
• Size range: 1/4" to 1" or 6mm to 25mm
 
GENERAL
The H-710 Series is a moderate-pressure ball valve for general service. These valves are compact in size and structure. They have relatively large ports for high flow, tight shutoff, long-life service and low operating torque.
The H-710 Series can be used for bi-directional flow in fully open or fully closed position only. The series is rated to max. 2000 psig (135 bar) and performs
on/off service.
PRESSURE TEMPERATURE RATINGS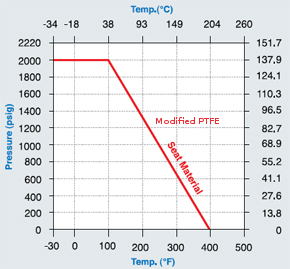 SEAT MATERIAL CHARACTERISTICS
TFM®1600 - (PFA and PTFE composite) - Bright White.
Excellent seat material for purity applications, very low residual material during operation. It has lower deformation ratio than PTFE, but higher pressure and temperature rating. Chemical resistance is equal to PTFE material.
PACKING ADJUSTMENT
Due to the varied service applications of the valve, packing adjustment may be  occasionally necessary. Packing is factory adjusted to 1000 psig service. Initial packing adjustment is recommended after installation and prior to start-up. Please find more information on H-710 under installation instruction. HAM-LET Ball Valves are designed to be operated in the fully closed or fully open position.
Our competitors charge 15-25% restocking fees for returned items, we are the only extraction equipment supplier with a no-hassle 100% money back return guarantee!
If you decide you no longer want your item we make it easy to request a return, send it back, and get a refund. As long as your return matches the requirements below, simply contact our support team to return your order. Please note return shipping is not provided, and original shipping fees cannot be refunded.
Have proof of purchase, such as your order number. 
Items must be in new/un-used condition, including all parts and original packaging.
Returns must be received within 30 days of placing the order
Solvents and chemical cannot be returned for any reason
For our complete return policy please click here.
Shipping Time
Our main warehouse is located near Los Angeles, you can use the map below to estimate delivery time. Most orders ship one business day after the order is placed, then the transit days will follow. Below the map you will find exceptions to these rules for certain products.
Some items we sell may be warehoused in Amazon's warehouses across the US. If the item you order happens to be in on of their warehouses it will generally arrive in 3 days. If you need to know about a specific item please feel free to contact us and we'll let you know.
Larger and heavier items have to be shipped via LTL Freight. LTL shipments tend to take longer to arrive, but they have the benefit of being much safer for heavy and delicate items. If your order has to be shipped by LTL Freight we will contact you to find out if the delivery address is a residential or commercial address, and whether a loading dock or forklift is available. The freight company will call you to arrange a delivery appointment, usually a day before.
Shipping Costs
The cost of shipping varies based on where you live, how much the order weighs, and the value of the order. We've outline our shipping guidelines below:
To Contiguous US:
Orders over $100 ship free
Orders $99.99 and under are a $10 flat fee


To Alaska, Hawaii, and other US Territories:
| | |
| --- | --- |
| Weight | Cost |
| 0-10 Lbs | $10.00 |
| 11-25 Lbs | $15.00 |
| 26-100 Lbs | $30.00 |
| 100-150 Lbs | $50.00 |
| 150+ Lbs | $150.00 |
The cost of shipping varies based on where you live, how much the order weighs, and the value of the order. We've outline our shipping guidelines below:
To Contiguous US:
Orders over $100 ship free
Orders $99.99 and under are a $10 flat fee


To Alaska, Hawaii, and other US Territories:
| | |
| --- | --- |
| Weight | Cost |
| 0-10 Lbs | $10.00 |
| 11-25 Lbs | $15.00 |
| 26-100 Lbs | $30.00 |
| 100-150 Lbs | $50.00 |
| 150+ Lbs | $150.00 |
To Other Countries:

We currently only offer shipping to addresses within the US. However, you can utilize our shipping partner Shipito to forward the package to you. View Details Here
Appears in: